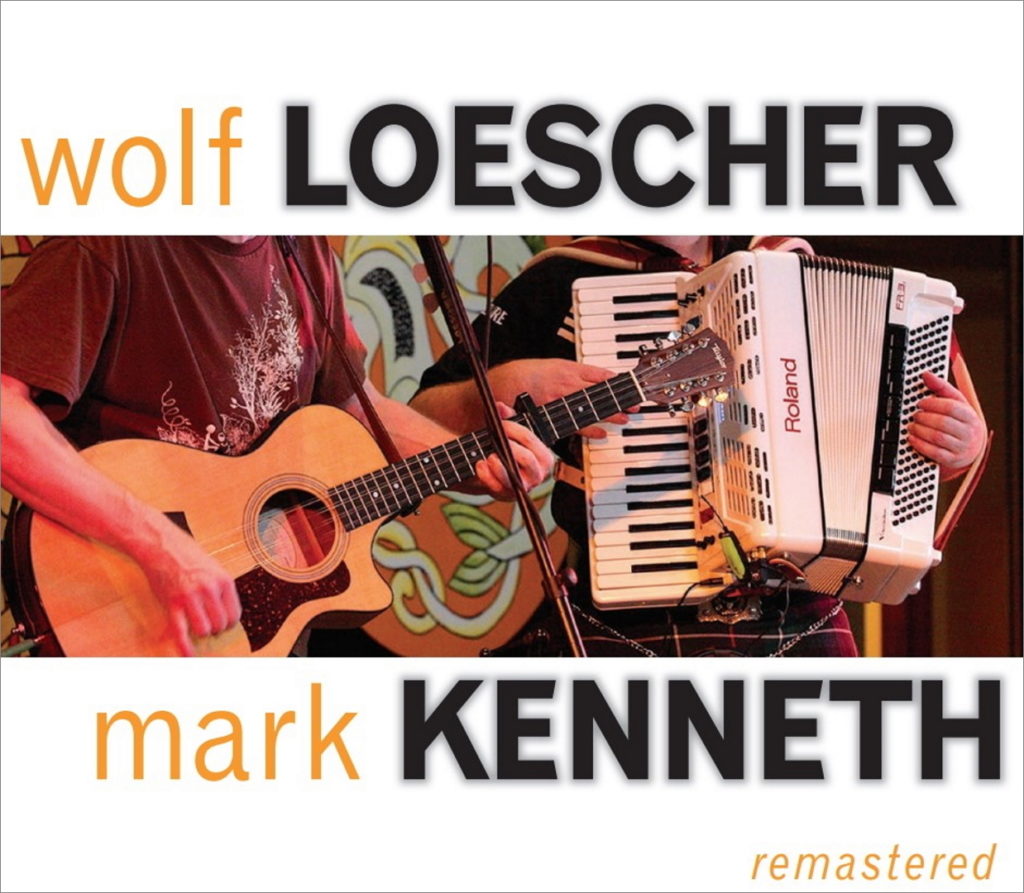 Released March 1, 2022
Original recording 2009 by Wolf Loescher and Mark Kenneth
Additional recording 2021-2022 by Wolf Loescher and Mark Kenneth
Mixed & Mastered 2021-2022 by Scooter Muse, Saddell Abbey Studio
Produced by Wolf Loescher, Off Hand Productions
Photos by Jay Ford (external) and Vicki Farmer (internal)
Graphic Design by Tony Horning
© 2022 Off Hand Productions. All Rights Reserved.
---
Wolf Loescher – Vocals, Bouzouki, Guitar, Percussion
Mark Kenneth – Accordion, MIDI Bass
---
Glenlogie
Traditional (Scotland)
© Jim Malcolm
A mildly incestuous Scottish love song with a rare happy ending. Learned from the the amazing talented Jim Malcolm, one of the finest musicians that Scotland has ever produced.
There were four and twenty nobles sat doon in the king's ha'
And bonnie Glenlogie was the flooer o' them a'
There was nine and nine nobles rade thro' Banchory fair
And bonnie Glenlogie was the flooer o' them there
There was six and six ladies sat doon in the king's ha'
Bonnie Jean o' Bethelnie was the flooer o' them a'
Doon cam Jeannie Gordon, she cam tripping doon the stairs
And she's favoured Glenlogie ower a' that was there
Glenlogie, Glenlogie gin ye prove sae kind
My love's laid upon you and I've told ye my mind
He turned him roond lightly as the Gordons does a'
I thank ye, Jeannie Gordon but I'm promised awa'
She ca'd tae her maidens for tae make her a bed
Wi' ribbons and napkins tae tie up her head
Then oot spak her faither, and a wise man was he
I'll wed ye tae Dumfendrum, he's mair gowd than he
Oh haud your tongue faither for that maunna be
Gin I get me Glenlogie for him will I dee
Then her faither's ain chaplain, a man o' great skill
He wrote a braw letter and indited it weel
A pox on ye Logie, noo sin' it is so
A lady's love is on ye must she die in her woe?
A pox on ye Logie, noo sin' it is time
A lady's love's laid on ye, must she die in her prime?
When Glenlogie got the letter he being amang men
It's oot spak Glenlogie what does young woman mean?
When he looked on the letter a light lauch gied he
But e'er he read ower a tear blint his e'e
Gae saddle me the black horse, gae saddle me the broon
Bonnie Jeannie o Bethelnie will be deid e'er I win
But the horses werenae saddled nor led on the green
Till bonnie Glenlogie was three mile his lane
It was pale and wan was she when Glenlogie cam in
But red and rosy grew she when she kent it was him
Whaur lies your pain lady, does it lie in your side
Whaur lies your pain lady, does it lie in your heid?
Oh, na, na Glenlogie you're far frae the pairt
The pain I lie under it lies in my heart
Turn roond Jeannie Gordon, turn roon on your side
And I'll be the bridegroom and ye'll be the bride
Noo, Jeannie's gotten married and her tocher doon told
Bonnie Jean o Bethelnie was scarce sixteen years auld
Bethelnie, oh Bethelnie, ye shine whaur ye stand
And the heather bells aroon ye shine ower Fyvie's land
---
Cleveland Park
Cleveland Park (Ivan Drever)
The Banks Of The Allan (Traditional)
Kenny Gillies Of Portnalong (P. MacFarquhar)
© Mechanical Copyright Protection Society Ltd
Mark first heard this set played in this particular sequence by a favorite band of mine – Wolfstone. The first tune is written by Ivan Drever and is the title track. We play them in "pipe friendly, fiddle unfriendly" keys of Cmin, Eb and Bb.
Mark heard "The Banks of the Allan" heard played by the Boys of the Lough and the Battlefield Band – this transcription is just a little different. The last tune I learned at some sessions in Portree, Skye, and is more often played in A.
---
The Beaches of St. Valery
Davy Steele
© Mechanical Copyright Protection Society Ltd
A wonderful modern Scottish folksong by the late, great Davy Steele. It tells the true story of Davy's father and his uncle Robert's personal experiences in World War II, both of whom served in the Seaforth Highlanders (part of the 51st Highland Division) at the battle of St Valery en Caux in France. After a prolonged retreat, the British Expeditionary Force found themselves stuck between advancing German tanks and the English Channel, with no means of evacuation. Over the course of about a week, over 800 vessels (including many commercial and pleasure craft) made the 26 mile journey to Dunkirk to rescue over 338,000 troops…while the Highlanders were fighting a rearguard action to give them time to escape. Days after the primary evacuation, one boat made its way to St. Valery, and Davy's father was one of the few to make it on board…but his uncle Robert was not so lucky.
It was in 1940, the last days of Spring
We were sent to the Maginot line
A fortress in France, built to halt the advance
Of an army from a different time
But we were soon overrun, out-thought and outgunned
Pushed further back every day
But we never believed high command would just leave us
So we fought every step of the way
'Til the 51st Highlanders found themselves back
On the banks of the Somme one more time
It still bore the scars of that war to end wars
The old soldier's scars deep in their minds
But we didn't stay long for the Panzers rolled on
As the battle raged west towards the sea
Until on June the 10th when sapped of all strength
We entered St. Valery
Chorus
And all I recall is the last boat leavin'
My brother on board wavin' and callin' tAE me
And the Jocks stranded there wi' their hands in the air
On the beaches of St. Valery
So I huddled all night in a hammered old house
As the shells and the bullets rained down
'Til just before dawn our hopes were still strong
For we moved to the beach from the town
But the boat that had left on the day we arrived
Was the last one that we'd ever see
An' with no ammo or food we had done all we could
So we surrendered at St. Valery
When I returned at the end of the war
From the Stalag where I'd been confined
I read of the battles the Allies had fought
Stalingrad, Alamein, and the Rhine
And with pride in their hearts people spoke of Dunkirk
Where defeat had become victory
But nobody mentioned that Highland Division
They'd never heard of St. Valery
No stories no statues for those that were killed
No honors for those who were gone
Just a deep sense of shame as though we were to blame
Though I knew in my heart we were not
So I've moved to a country I've come to call home
But my homeland lies far o'er the sea
I will never return while my memory still burns
On the beaches of St. Valery
---
Wing Commander
Sandy McLeod of Garafad (Phil Cunningham)
Cold Harsh February (Phil Cunningham)
Wing Commander Donald MacKenzie's Reel (Phil Cunningham)
© Mechanical Copyright Protection Society Ltd
Another set of Phil Cunningham tunes, founding member of the band Silly Wizard. (Mark finds it interesting that we have put 4 of his tunes on the album.) At the time of initial recording in 2009, he had only recently started playing these tunes, but loves the feel of the way it goes with our style of playing. There is a good story about the last tune; it is named after Phil Cunningham's old landlord who was a retired Wing Commander in the RAF. He came for a cup of tea at one o'clock each day and Phil offered him Bandit biscuits. Phil said he never got the "Bandits at one o'clock" joke, but he left a little note on his coffin to explain it.
---
A Miner's Life
Billy Bragg
© Sony/ATV
A great rabble-rousing protest song about miners that we learned from a sailor. Join the Union!
A miner's life is like a sailor's, on board a ship to cross the waves
Every day his life's in danger, many ventures being brave
Watch the rocks, they're falling daily, careless miners always fail
Keep your hand upon your wages and your eye upon the scale
Chorus
Union miners, stand together
Do not heed the Coal Board's tale
Keep your hand upon your wages
And your eye upon the scale
You've been docked and docked again, boys, you've been loading three for one
What's the use in all your working when your mining days are done?
Worn out shoes and worn miners, blackened lungs and faces pale
Oh keep your hand upon your wages and your eye upon the scale
In conclusion, bear in memory, keep this password in your mind
Worker's strength cannot be broken when unions be combined
Stand up tall and stand together, victory for you prevail
Oh keep your hands upon your wages and your eye upon the scale
---
Staffin Island
The Hut on Staffin Island (Phil Cunningham & Sarah Copus)
Tuttle's (Traditional)
The Banshee (James MacMahon)
© Philip Martin Cunningham and Galactic Playground Music
The composer of the first tune needs no introduction amongst accordionists – the Silly Wizard himself, Phil Cunningham. Mark took a different play on this title track, by playing it in a more free form rather than as a reel as most commonly heard. Staffin Island is just off of the Isle of Skye and if you look across to Staffin Island, once known as Fladaigh (Flat Isle, from Norse) you see two small bothies (huts) and upright poles for drying nets. The latter were typical of commercial salmon-fishing stations. The fishermen used to stay in the bothies.
---
Carrick-a-Rede
Cathie Ryan / John Doyle
© Setanta Publishing % John a Doyle and Wake the Neighbors Music
On there northeast coast of Ireland in County Antrim, there is a small rocky island connected to the mainland by only a rickety rope bridge. It's secluded nature and wild beauty make a popular place for lovers' trysts, and makes this one of the sexiest modern Irish folksongs we've ever heard.
I'll walk the miles from Ballintoy
No shining moon to light my way
Across the fields of Larrybane
And the rope bridge where my love waits
The fishermen lie in their beds
The salmon spawn in Moyle's blue sea
And you lie there upon the grass
Waiting for me on Carrick-a-rede
Chorus
One step and two, hold tight, let go
Twenty and four, hold tight, let go
I'm nearly there, let go, let go
I will find you where you lie
And steal in soft under your coat
We will tell our stories, love
And sing our songs out, every note
Your sweet kiss will bring the rest
Your mouth on my mouth, wave on wave
We will meet the sea's loud roar
No better way to cheat the grave
---
Charlie's Cadence (2/4 Pipe Marches)
P/M Jim Christie of Wick (A. Harper)
P/M David Manson of Clashantrushel (Traditional)
This is probably Mark's favorite style of tune. He thinks it best exemplifies the swinging style of Scottish Music. He used to play this set for the Canadian Barn Dance with his band back in Scotland. The second tune is a favorite of his – he first heard it played by Freeland Barbour in the Wallachmore Ceilidh Band way back in the 1980s. If you have never heard of this band – search them out – this tune is on the "Second Chance" album on Lapwing Records from 1980. Freeland previously played with Silly Wizard, and then went on to be a major player in BBC Radio Scotland as a production and sound engineer.

This set is named in honor of Charlie E. Simmons, father to our good friend and benefactress Kathleen Simmons Murray.
---
The Rigs o' Rye
Traditional (Scotland)
© Mechanical Copyright Protection o/b/o the Corries (Music) Ltd
Learned from the masterful recordings of The Corries. Wolf sang this song to his infant children while wandering up and down Seven Mile Beach on Grand Cayman, desperately trying to get them to go to sleep.
'Twas in the month o' sweet July
Before the sun had pierced the sky
'Twas in between the rigs o' rye
I heard twa lovers talking
The lad said, "Lassie I must away
I have no longer time to stay
But I've a word or two tae say
Gin ye time tae tarry
Your faither o' ye taks great care
Your mother combs doon your yellow hair
But your sisters say that ye'll get nae share
If ye go wi' me, a stranger"
"Let my faither fret, let my mother frown
My sisters words I do disown
Tho' they were deid and below the ground
I would go wi' you, a stranger"
The lad says, "Lassie, your fortune's small
And maybe it will be nane at all
You're no a match for me at all
Go and waste your love on another"
Now the lassie's courage began to fail
Her rosy cheeks they grew wan and pale
And the tears came trickling doon like hail
Or a heavy shower in summer
He's ta'en his handkerchief linen fine
He's dried her tears and he's kissed her een
Saying lassie, lassie ye shall be mine
For I said it all to try ye
This laddie being o' courage bold
A laddie scarce nineteen years old
He's ranged the hills and the valleys all
And he's ta'en his lassie wi him
---
Beyond the Kyle of Dumfries (Strathspeys)
Loudon's Bonnie Woods and Braes (Traditional)
John Stephen of Chance Inn (Angus Fitchet)
Miss Ann Rutherford (Walter Rutherford)
Probably one of the most beautiful flowing dance styles, and a form of tune we wish was played more over here in the US.
A strathspey is a type of dance tune in 4/4 time. It is similar to a hornpipe but slower and more stately, and contains many dot-cut 'snaps'. A so-called Scottish snap is a short note before a dotted note, which in traditional playing is generally exaggerated rhythmically for musical expression. An example of a strathspey would be the song "The Bonnie Banks O' Loch Lomond", provided it is sung staccato:

Wikipedia
This set takes Mark back to his band days in Dundee. Maureen and Ann Rutherford (sisters) were both fabulous musicians and a great influence on him. The second tune was written by Angus Fitchet. Angus and his brother Alec were influential fiddlers in the Tayside area, and Mark shared many stages with both of them. Mark counts them amongst the people that guided and supported his "style searching". He used to play the first tune for the "Highland Fling" when he played for dancers Gareth and Deryck Mitchelson – good friends, and 10 times World Champions (www.toeandheel.com).
This set is named in honor of our good friend and benefactor Kyle Giacco, ESQ.
---
Mother Carey
C. Fox-Smith / Tom Lewis
© Tom Lewis
From the most talented, funny, and friendly Shantyman of the modern era, Mr. Tom Lewis. "Mother Carey" is the mythical embodiment of the ocean referred to by English-speaking sailors (and rumored to be Davy Jones' wife).
As late I went a-walking, a-walking by the sea
I thought I heard men talking, I heard them call to me
Oh, sorrow take the city streets, the weary city stones
'Tis time for you to leave them while the strength is in your bones
Shake her and wake her Johnny, there's the ship for you
Lying in the Royal Roads waiting for a crew
And every brace and backstay is singing soft and low
Mother Carey wants us and we're all bound to go
Chorus
Yes, we're all bound to go, Johnny, all bound to go
If it's late or early, lads, if you will or no
Sure as sun do rise, Johnny, sure as tides do flow
When Mother Carey wants us then we're all bound to go
As late I went a-walking, a-walking by the shore
I thought of ports I'd like to see I hadn't seen before
Across the strait the lighthouse kept winking fine and free
To show me where the road is that leads to open sea
Shake her and wake her, Johnny, yonder there she rides
Lying in the Royal Roads swinging at the tides
Singing to the muttering tides that past her cables flow
Mother Carey wants us and we're all bound to go
As late I went a-walking, a-walking' by the tide
I thought my love was with me and walking by my side
So kind she did reproach me, so soft her eyes did shine
Yet could not hold beside her this restless heart of mine
Shake her and wake her, Johnny, can't you hear them calling
Out across the Royal Roads and the dusk a-falling
Time and tide for me to leave you, though I love you so
Mother Carey wants us and we're all bound to go
---
Karen Mullen's Marches (6/8 Marches)
Donald McLean of Lewis (P/M Donald McLeod)
The Dundee City Police Pipe Band (Jimmy Shand)
A great set to dance the "Gay Gordons" to. After Pipe Marches these 6/8 march type tunes are Mark's next "favourite". Mark's father was a Police Officer for 30 years with the Tayside Police force (of which Dundee is a part). Mark played many gigs with his band at the Police Club and several with the Pipe Band – happy times.

This set is named in honor of Karen Mullen, a friend and supporter who was lost to us during the COVID-19 pandemic.
---
The Shepherd Lad
John McCusker / Karine Polwart
© Downtown Music Holdings (Iom) Limited
If you don't ask, you don't get.
Once there was a shepherd lad, kept sheep upon the hill
An he's laid his pipe and his crook aside, and there he's slept his fill
He woke up on a riverbank on a fine May morning
And there he spied a lady swimming in the clothes that she was born in
So he raised his head from his green bed and he approached the maid
"Put on your clothes, my dear," he says, "and do not be afraid
It's fitter for a lady fair to sew a silken seam
Than to rise on a fair May morning and swim against the stream."
"Well if you'll not touch my mantle and you'll leave my clothes alone
Then I'll give you all the money, sir, that you can carry home."
"I'll not touch your mantle and I'll leave your clothes alone
But I'll take you out of the clear water, my dear, to be my own"
So he's taken her out o the clear water and he's held her in his arms
"Put on your clothes, my dear," he says, "and hide your bounteous charms."
He's put her on a milk white steed, himself upon another
And it's all along the way they rode like sister and like brother
She rode up to her father's gate and on the door she knocked
And ready stood a porter there, and he the door unlocked
When the gates were opened, it's so nimbly she stepped in
She said, "Kind sir, you are a fool without and I'm a maid within
So fare you well, my modest boy, I thank you for your care
But had you done as you desired, I'd never have left you there
I will sew no silken seam on a fine May morning
You can bide your time till your time runs out, so take this as fair warning
---
Thanks to…
Our parents and families, Scooter Muse, Tony Horning, Kendall Rogers, Gordon McLeod, Garren Bagley, David & Elaine Ricci, Christina Kellaway Loescher, Kyle Giacco, Kathleen Simmons Murray, Herb Taylor (aka "The Maker"), Cidnie Carroll, Sheri Bush, Nick Ballarini, Patrick Devlin, Joe Petosa, Roland Accordions, the North Texas Irish Festival, the Austin Celtic Festival, the Howlers, and anybody who supports music (both recorded and live) by actually PAYING for it.