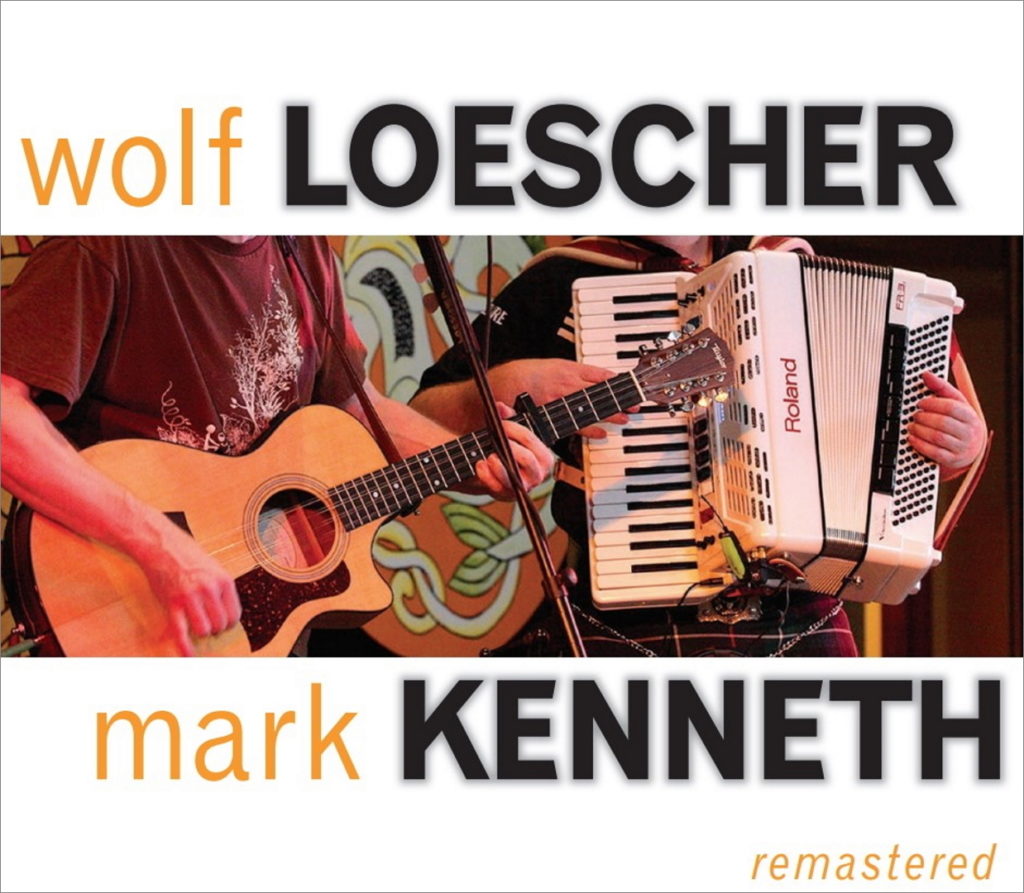 Released March 1, 2022
Original recording 2009 by Wolf Loescher and Mark Kenneth
Additional recording 2021-2022 by Wolf Loescher and Mark Kenneth
Mixed & Mastered 2021-2022 by Scooter Muse, Saddell Abbey Studio
Produced by Wolf Loescher, Off Hand Productions
Photos by Jay Ford (external) and Vicki Farmer (internal)
Graphic Design by Tony Horning
© 2022 Off Hand Productions. All Rights Reserved.
---
Wolf Loescher – Vocals, Bouzouki, Guitar, Percussion
Mark Kenneth – Accordion, MIDI Bass
---
Glenlogie
Traditional (Scotland)
© Jim Malcolm
A mildly incestuous Scottish love song with a rare happy ending. Learned from the the amazing talented Jim Malcolm, one of the finest musicians that Scotland has ever produced.
---
Cleveland Park
Cleveland Park (Ivan Drever)
The Banks Of The Allan (Traditional)
Kenny Gillies Of Portnalong (P. MacFarquhar)
© Mechanical Copyright Protection Society Ltd
Mark first heard this set played in this particular sequence by a favorite band of mine – Wolfstone. The first tune is written by Ivan Drever and is the title track. We play them in "pipe friendly, fiddle unfriendly" keys of Cmin, Eb and Bb.
Mark heard "The Banks of the Allan" heard played by the Boys of the Lough and the Battlefield Band – this transcription is just a little different. The last tune I learned at some sessions in Portree, Skye, and is more often played in A.
---
The Beaches of St. Valery
Davy Steele
© Mechanical Copyright Protection Society Ltd
A wonderful modern Scottish folksong by the late, great Davy Steele. It tells the true story of Davy's father and his uncle Robert's personal experiences in World War II, both of whom served in the Seaforth Highlanders (part of the 51st Highland Division) at the battle of St Valery en Caux in France. After a prolonged retreat, the British Expeditionary Force found themselves stuck between advancing German tanks and the English Channel, with no means of evacuation. Over the course of about a week, over 800 vessels (including many commercial and pleasure craft) made the 26 mile journey to Dunkirk to rescue over 338,000 troops…while the Highlanders were fighting a rearguard action to give them time to escape. Days after the primary evacuation, one boat made its way to St. Valery, and Davy's father was one of the few to make it on board…but his uncle Robert was not so lucky.
---
Wing Commander
Sandy McLeod of Garafad (Phil Cunningham)
Cold Harsh February (Phil Cunningham)
Wing Commander Donald MacKenzie's Reel (Phil Cunningham)
© Mechanical Copyright Protection Society Ltd
Another set of Phil Cunningham tunes, founding member of the band Silly Wizard. (Mark finds it interesting that we have put 4 of his tunes on the album.) At the time of initial recording in 2009, he had only recently started playing these tunes, but loves the feel of the way it goes with our style of playing. There is a good story about the last tune; it is named after Phil Cunningham's old landlord who was a retired Wing Commander in the RAF. He came for a cup of tea at one o'clock each day and Phil offered him Bandit biscuits. Phil said he never got the "Bandits at one o'clock" joke, but he left a little note on his coffin to explain it.
---
A Miner's Life
Billy Bragg
© Sony/ATV
A great rabble-rousing protest song about miners that we learned from a sailor. Join the Union!
---
Staffin Island
The Hut on Staffin Island (Phil Cunningham & Sarah Copus)
Tuttle's (Traditional)
The Banshee (James MacMahon)
© Philip Martin Cunningham and Galactic Playground Music
The composer of the first tune needs no introduction amongst accordionists – the Silly Wizard himself, Phil Cunningham. Mark took a different play on this title track, by playing it in a more free form rather than as a reel as most commonly heard. Staffin Island is just off of the Isle of Skye and if you look across to Staffin Island, once known as Fladaigh (Flat Isle, from Norse) you see two small bothies (huts) and upright poles for drying nets. The latter were typical of commercial salmon-fishing stations. The fishermen used to stay in the bothies.
---
Carrick-a-Rede
Cathie Ryan / John Doyle
© Setanta Publishing % John a Doyle and Wake the Neighbors Music
On there northeast coast of Ireland in County Antrim, there is a small rocky island connected to the mainland by only a rickety rope bridge. It's secluded nature and wild beauty make a popular place for lovers' trysts, and makes this one of the sexiest modern Irish folksongs we've ever heard.
---
Charlie's Cadence (2/4 Pipe Marches)
P/M Jim Christie of Wick (A. Harper)
P/M David Manson of Clashantrushel (Traditional)
This is probably Mark's favorite style of tune. He thinks it best exemplifies the swinging style of Scottish Music. He used to play this set for the Canadian Barn Dance with his band back in Scotland. The second tune is a favorite of his – he first heard it played by Freeland Barbour in the Wallachmore Ceilidh Band way back in the 1980s. If you have never heard of this band – search them out – this tune is on the "Second Chance" album on Lapwing Records from 1980. Freeland previously played with Silly Wizard, and then went on to be a major player in BBC Radio Scotland as a production and sound engineer.

This set is named in honor of Charlie E. Simmons, father to our good friend and benefactress Kathleen Simmons Murray.
---
The Rigs o' Rye
Traditional (Scotland)
© Mechanical Copyright Protection o/b/o the Corries (Music) Ltd
Learned from the masterful recordings of The Corries. Wolf sang this song to his infant children while wandering up and down Seven Mile Beach on Grand Cayman, desperately trying to get them to go to sleep.
---
Beyond the Kyle of Dumfries (Strathspeys)
Loudon's Bonnie Woods and Braes (Traditional)
John Stephen of Chance Inn (Angus Fitchet)
Miss Ann Rutherford (Walter Rutherford)
Probably one of the most beautiful flowing dance styles, and a form of tune we wish was played more over here in the US.
A strathspey is a type of dance tune in 4/4 time. It is similar to a hornpipe but slower and more stately, and contains many dot-cut 'snaps'. A so-called Scottish snap is a short note before a dotted note, which in traditional playing is generally exaggerated rhythmically for musical expression. An example of a strathspey would be the song "The Bonnie Banks O' Loch Lomond", provided it is sung staccato:

Wikipedia
This set takes Mark back to his band days in Dundee. Maureen and Ann Rutherford (sisters) were both fabulous musicians and a great influence on him. The second tune was written by Angus Fitchet. Angus and his brother Alec were influential fiddlers in the Tayside area, and Mark shared many stages with both of them. Mark counts them amongst the people that guided and supported his "style searching". He used to play the first tune for the "Highland Fling" when he played for dancers Gareth and Deryck Mitchelson – good friends, and 10 times World Champions (www.toeandheel.com).
This set is named in honor of our good friend and benefactor Kyle Giacco, ESQ.
---
Mother Carey
C. Fox-Smith / Tom Lewis
© Tom Lewis
From the most talented, funny, and friendly Shantyman of the modern era, Mr. Tom Lewis. "Mother Carey" is the mythical embodiment of the ocean referred to by English-speaking sailors (and rumored to be Davy Jones' wife).
---
Karen Mullen's Marches (6/8 Marches)
Donald McLean of Lewis (P/M Donald McLeod)
The Dundee City Police Pipe Band (Jimmy Shand)
A great set to dance the "Gay Gordons" to. After Pipe Marches these 6/8 march type tunes are Mark's next "favourite". Mark's father was a Police Officer for 30 years with the Tayside Police force (of which Dundee is a part). Mark played many gigs with his band at the Police Club and several with the Pipe Band – happy times.

This set is named in honor of Karen Mullen, a friend and supporter who was lost to us during the COVID-19 pandemic.
---
The Shepherd Lad
John McCusker / Karine Polwart
© Downtown Music Holdings (Iom) Limited
If you don't ask, you don't get.
---
Thanks to…
Our parents and families, Scooter Muse, Tony Horning, Kendall Rogers, Gordon McLeod, Garren Bagley, David & Elaine Ricci, Christina Kellaway Loescher, Kyle Giacco, Kathleen Simmons Murray, Herb Taylor (aka "The Maker"), Cidnie Carroll, Sheri Bush, Nick Ballarini, Patrick Devlin, Joe Petosa, Roland Accordions, the North Texas Irish Festival, the Austin Celtic Festival, the Howlers, and anybody who supports music (both recorded and live) by actually PAYING for it.